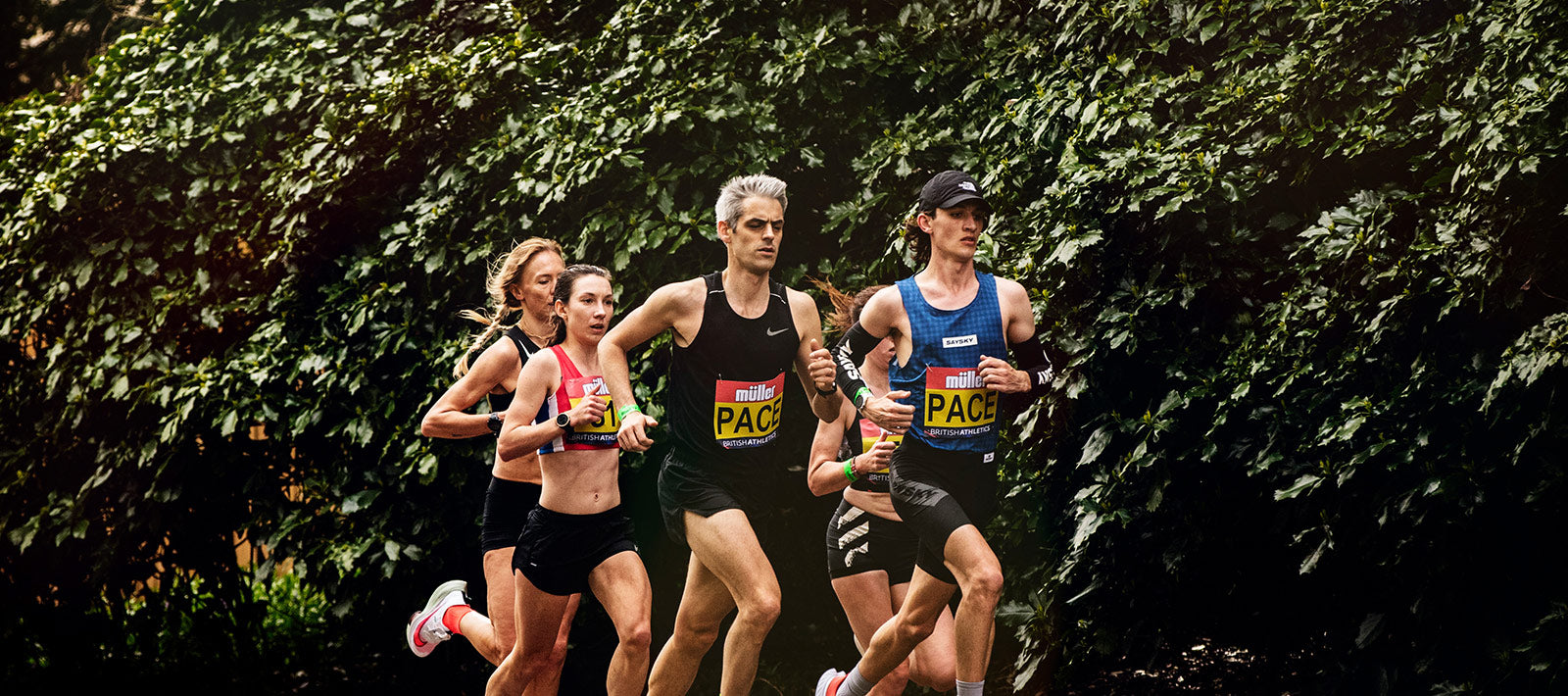 Take me to the finish line - on pacer duty with the SAYSKY athletes
The British SAYSKY athletes, Dougie Musson and Daniel Jarvis were acting pacers for a group of British Olympic marathon contenders, when they were battling for places at the UK Olympic Trials in Kew Gardens London, March 26. An event for British athletes to qualify and secure a place for the delayed 2020 Tokyo Olympics that has been rescheduled for July 2021.
The two pacers served an important and responsible role for the other athletes to keep a manageable speed throughout the race. We had a chat with Dougie and Daniel about what it means to be a pacer and their general experience at the UK Olympic Trials.
Read the full interview below the picture.
Could you explain what it means to be a pacer and the key responsibilities?
Daniel: So being a pacemaker or rabbit as they sometimes call it in America is pretty self explanatory except you are also in charge of getting the running speed correct and consistent. The main responsibility for a pace maker in a marathon is getting the 5KM splits as balanced and on target as much as possible.

Dougie: For me to be a pacemaker is to help out your fellow runners achieve the very best they can. Running is usually an individual sport and pace making is a great way to feel part of something bigger, seeing runners you have helped achieve PB's can be just as rewarding as achieving your own. That means the key responsibilities are helping keep the pace smooth and even, allow the runners behind to not worry about the pace or direction. I'd break the key responsibilities as breaking the wind, keeping the pace smooth and even, offering moral support and checking everyone is happy with the pace and feeling good.

How did you get into the pacing role and what motivates you to be a pacer?
Daniel: So the trial race was only 2 miles down the road from where I live and organised by a company who I am quite familiar too. Due to the pandemic and lack of races I threw myself at the opportunity of being in a race environment again. The other benefit was I got to catch up with fellow elite runners who I hadn't seen in a long time due to lockdown restrictions which was another bonus!

Dougie: I am transitioning to the marathon, so pacing is a great way to rehearse the training build up and race day experience for future races. Getting used to running at 3:10 kilometres for 30k will be great preparation for an autumn marathon. My motivation comes from helping others, I believe every runner should have the very best chance of running their best race and if I can help pacing, I will do whatever I can. Having been paced myself there is something selfless about giving what you can for others, knowing others are relying on you is what motivates me to push harder and give more.
How do you prepare yourself to be a pacer? Is it different from when you're racing?
Daniel: Due to pacing an elite women's group the pace wasn't what I would describe as my personal race pace, and not a session pace that I would normally run at. I went into it confident that I was fit and had a lot of miles in my legs in preparation. I treated it as a faster longer run but I showed the distance a lot of respect and fuelled correctly along the way.

Dougie: I find it pretty much the same, you have to get into very good shape so that you can comfortably run at the pace needed out in front. Most of the time this means taking wind too, so you need to be strong. Having a good understanding of what pace you are moving at also helps, you want to make the pacing even so practicing running the same splits over and over again is essential.

Could you explain what is a good tactic when pacing a group? How do you ensure to keep your pace consistent during the race?
Daniel: This one is an interesting question. On race day there was a group being paced 3 seconds a mile quicker than my group. This meant I was able to judge the pace of their group and use my GPS watch as well. However I had to mentally allow the group in front to gradually run off into the distance, instead of becoming attached to their group and getting too carried away. Along the way I had fellow pacer Nick Bowker Running with me and we both kept an eye on the splits we were running to ensure an even pace was run.

Dougie: You need to be out front making sure you are blocking as much of the wind from the athletes behind. I find it really important to point out any potential hazards out on the course too. If there is a sharp turn, loose water bottle, or pothole in the road, you need to make the group aware, so no one has an accident. Pointing out or shouting is a great way of relaying this information. GPS watches and timing mats are the best way of getting accurate feedback of your pace, but you also want to get into a rhythm. If the course is up and down you need to make sure that you smooth these out as much as possible, it's easy to get carried away going downhill but that could be wasted energy for later in the race!

What's the most challenging when pacing a group of athletes?
Daniel: Pacing a group of runners on a course where there are multiple fuelling stations means you have to make sure you know which runners are taking on fuel each lap. Doing this meant the group communicated well, shuffled around when needed and the athletes successfully picked up their bottles and gels.

Dougie: I think the pressure has to be the biggest challenge. You can have any number of athletes who are relying on your judgement, you have to be willing to handle this pressure and give what you can for the athletes.
And what are the expectations from the runners?
Daniel: The runners have to trust in me as a runner to get the pace correct, they place weeks and months of miles running into my hands on the day. I think what reassured them was the fact I have competed at a high international level and had a lot of racing experience.

Dougie: I never think runners have massive expectations other than running the prescribed pace. The runners that have followed you are doing so because of the pace you are supposed to be running, going too fast or too slow is not what they signed up for. 

How was your general experience during the UK Olympic Trials?
Daniel: The general experience was very different to my previous Olympic trial race which I ran in 2016 on the track. Usually the Olympic trials for both marathon and track and field athletics is usually in front of a packed group at the London Marathon or at the Alexander stadium in Birmingham. However due to Covid19 it was behind closed doors, everything was planned, tests were taken and masks were worn. Likewise I got to run an unplanned marathon debut marathon of 2.32 as I helped a group of talents female athletics run PBS and domestic commonwealth games standards for 2022. I'm already looking into pacing again at the London marathon this year in October hopefully.

Dougie: I loved it! It was great to learn so much about the demands on the body, nutrition, tapering and training for the event. It was tough but it has got me really excited for doing my own marathon in autumn, where I hope some other pacemakers can help me achieve my goal of running the commonwealth Games Qualifying time of 2:14:00! Until then I'll keep training hard and Stay Brave.


Keep up with all the other cool stories and features in the SAYSKY universe - just click here.

Name: Dougie Musson
Country: United Kingdom
Instagram & Strava

Name: Daniel Jarvis
Country: United Kingdom
Instagram & Strava