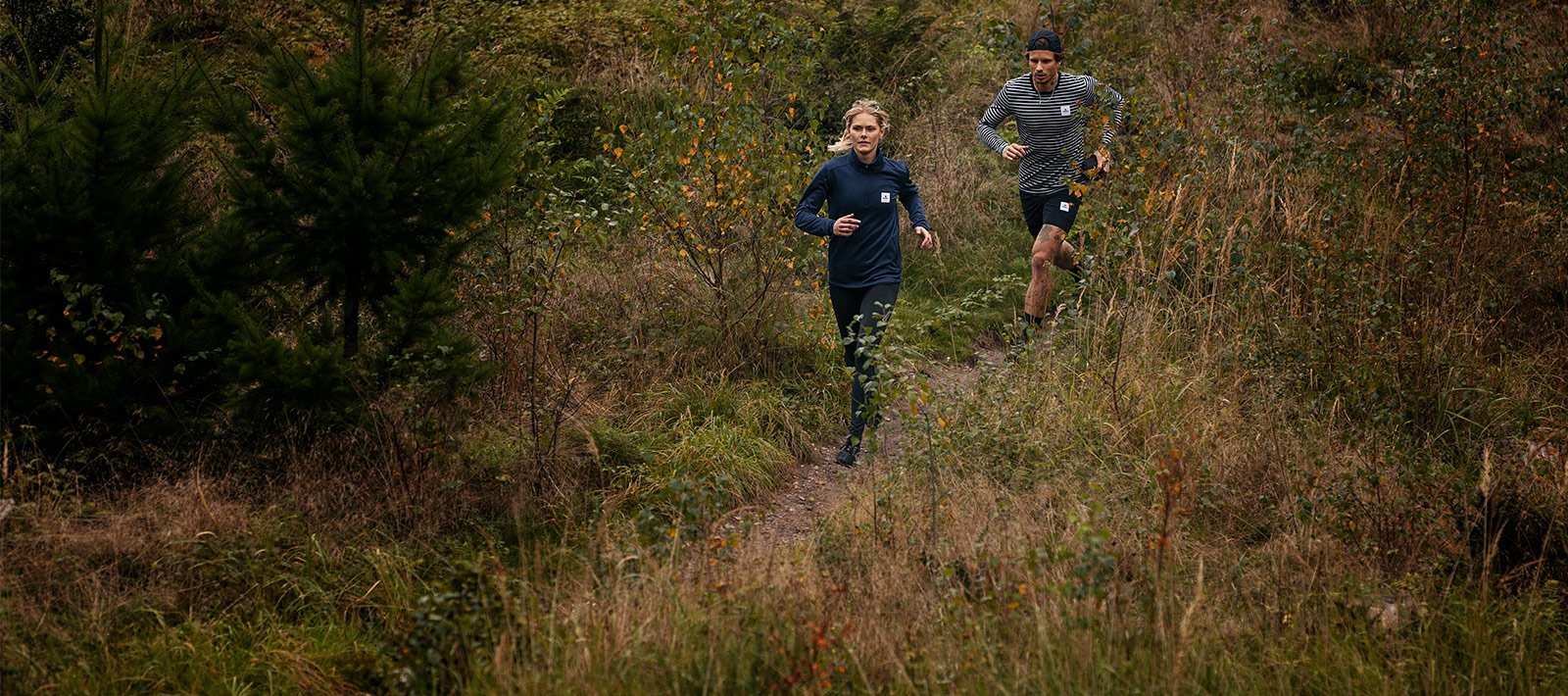 How to stay motivated in the winter? Wrap up warm and bank the miles!
As a runner, winter can be a tough one to get through. It's dark and cold and the season screams for cuddling up inside with a blanket and binge watching. But don't let weather or the season get in the way of your running – it's all about finding the right attitude and accept that winter running might demand a little more effort, than those nice sunny runs where the sun is chanting your name. So, we decided to have a small chat with four of our SAYSKY athletes to get their take on how to stay motivated during the winter.
Could you start by introducing yourself?
Becky: My name is Becky Briggs, I study Sport and Exercise at St Mary's University, London, I am a long-distance road runner and I have run for GB at the Junior World XC and Senior World Half Marathon.

Elsey: I'm Elsey Davis, I'm a doctor and a road and mountain Marathon runner.

Paul: I am Paul, I am 35 years old. I work as a Medical Doctor in Berlin and still try to be a competitive runner. I try to run about 50-70 Miles per week with all the workouts I believe are important for a runner.

James: My name is James Westlake, and I spend most of my time running down in sunny Sussex, England. I have been part of the AB Training Group for 5 years now, and we do the majority of our training in Brighton as a group. I tend to concentrate on competing at marathons but have recently spent some more time trying to improve my speed across 10k and 5k distances.
How do you stay motivated during the winter?
Becky: During the winter, I think it's a great time to set long term goals for spring to stay motivated and power you through the harsher weather.

Elsey: By keep setting goals and don't lose sight of what you are doing it for. Every run counts for something and is part of the bigger picture. Training in all elements makes you a more resilient runner, and you may be faced with similar conditions in a race. Expect the best but prepare for the worst.

Paul: I really like having long term goals, so setting a race in spring is good motivation for a long build up in winter times. Sometimes I've also participated in winter races (I won 2 times the Barbados Marathon in the beginning of December) or cross country, which kept me motivated.

James: Running with the AB Training Group really helps to get me out and hit those sessions during the winter months. Having a good group to work with and smash through a session is such a great way to stay on top of your game. Even when it is really cold or hammering down with rain, you know there will be a good group, all prepared to have a laugh but produce a strong session at the same time!
Does the cold effect your motivation?
Becky: Personally, I prefer running in colder weather, so winter isn't too bad for me! Dark mornings and evenings can be a little off putting but running with others or in well lit places certainly helps!

Elsey: It's harder to get out of bed and out the door in the morning but I always promise myself a nice treat when I get home like a hot bath or my favourite snack.

Paul: Not so much the cold but the darkness and slippery routes do hold me from some runs, I would have done in the summer. Actually, running is the best sport in the winter, as you get warm so easy, especially with the right gear. When I am warm and running through the city, I most likely feel superior in terms of climate to others - like an animal in its natural habitat.

James: Not when you have great kit to keep you nice and warm!
Does your running routine change?
Becky: In sessions I will focus on longer reps, especially on the track, building up endurance while maintaining speed. Longer runs will increase to up the mileage for sure.

Elsey: Well, I usually have my warm running clothes next to my bed ready to go in the morning - sometimes I get changed in bed to stay warm!
If it's snows or is icy (I hate the treadmill) I will find grass to run around to avoid slipping.

Paul: I do an extended warm up inside, if the temperature is around freezing point: 5 minutes on the hometrainer or some pushups and some mobility and jumps already in my tights and shirt. Then you have the right body temperature and choice of upper for the climate outside.

James: Running slightly later in the day rather than in the morning can sometimes be a good idea but I try not to let it affect my routine too much.


What's your best winter running motivation tip?
Becky: Wrap up warm and bank the miles!
Elsey: Make sure you are well kitted out for cold weather. Cold limbs negatively effect performance so best to layer up! Also arm warmers and gloves are essential items for me in the winter.
Paul: Do a "hop on, hop off run commute": You just need you running clothes and your inside clothes in a run commute backpack: Do a short warm up run outside to the bus or train. Do some jumps or stairs at the station to stay warm (it's good for your muscles and tendons, and you can check this on your training plan). Do some long stretches in the bus or train (if there is really no space, do calf raises. Do a really easy cool down run to your workplace (if you are really warm, you can do this just in a T-shirt). Get a nice shower. And finally, the best workout is to run the full distance home in the afternoon.
James: Wrap up warm and find some of your good running mates that will make sure you get out there and do the business for the day!
So, there's not really more to do other than dress up and get running, your body will thank you later. But hey - not sure how to dress for winter running? Lucky for you we created a whole
guide on how to layer
to combat the cold.